Myasthenia gravis is an autoimmune disease mediated by T cells producing antibodies against nicotin acetylcholin receptor (AChR) or muscle-specific receptor tyrosine kinase (Musk), which deplete the neuromuscular plate and worsen neuromuscular transmission. The last few years have been a number of new knowledge about imunopatogenesis of disease was introduced several new treatments. Early staining of diagnosis and rational therapy reach approximately 95% clinical remission.

     On this page you will find a number of current articles from professional journals, power point presentations, all in pdf format. Expert sources, which we consider relevant (major theoretical work, clear of publications, the latest in therapy) will be regularly updated as they become available in the internet search engines.

. Books
Myasthenia gravis - komplexní pojetí a chirurgická léčba - objednávka z internetového knihkupectví - (autoři Prof. MUDr. Jan Schutzner, Csc, Doc. MUDr. Václav Šmat, Csc).
Myasthenia Gravis and Related Disorders (H. Kaminski, 2009)
---
Articles in Czech (full text, pdf)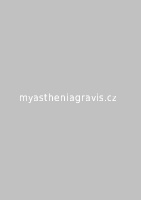 Přehledný článek o imunopatogenezi, diagnostice a terapii myast
henia gravis (Doc. MUDr. Peter Špalek,CSc)
Praktické zkušenosti s diagnostikou a terapií (MUDr. Jiří Piťha, Prof. MUDr. Zdeněk Ambler, DrSc)
---
Articles in English (full text, pdf)
Auto - antobodies to the receptor tyrosine kinaze MuSK in patients with myasthenia gravis without acetylcholine receptor antibodies, W Hoch, J Mc´Conevile, S Helms, J Newsom-Davis, A Melms, A Vincent. Nature Medicine, 2001
Update of myasthenia gravis, B R Thanvi, T C N Lo. Postgrad Med J, 2004
Myasthenia gravis: past, present and future, B M Conti Fine, M Milani, H Kaminski. J Clin Invest. 2006
Myasthenia gravis, V C Juel, J M Massey, Orphanet Journal of Rare Diseases 2007
Autoantobodies in neuromuscular transmission disorders, A Vincent. Ann Indian Acad Neurol, 2008
Muscle-Specific Receptor Tyrosine Kinase Antibody Positive Myasthenia gravis Current Status, S J Oh, J Clin Neurol, 2009
Autoimmune myasthenia gravis: emerging clinical and biological heterogenity, M N Merigigoli, D B Sandsers, Lancet Neurol, 2009
---

Medscape
Myasthenia gravis, A K Shah. e-medicine Dec. 2. 2008
Review: Progress In the Treatment of Myasthenia Gravis, R Gold, R Hohfeld, K V Toyoka. Ther Adv Neurol Disorders 2008
Steroids and Immunosuppresant Drugs in Myasthenia Gravis, S Sathasivam. Nat Clin Pract Neurol, 2008
Corticosteroid-Induced Myopathy, S. S. Lim. e-medicine, Dec. 2008
http://www.medscape.com/neurology
---
Lectures in Czech (pdf)
XVII. Neuromuskulární symposium Brno, 20.-24.4. 2006
Repetitivní stimulace (Z.Abler)
Single fibre EMG (F. Cibulčík)
Myasthenia gravis: klinický obraz, (J.Piťha)
Český a slovenský neurologický sjezd, Praha, prosinec 2007:
Prvnní zkušenosti s klinickým využitím stanovení anti MuSK protilátek u myasthenia gravis (J, Piťha, J. Uhrová, T. Zima)
Český a slovenský neurologický sjezd, Olomouc, listopad 2008:
Naše zkušenosti s terapií mycophenolate mofetilem u pacientů s myasthenia gravis (M. Týblová, J. Piťha, neurologická klinika VFN)
---
Přednášky - prezentace Vejvalkův myastenický den
XVI. Vejvalkův myastenický den, leden 2008
Autoimunitné spektrum myasténe gravis a jej imunopatogenetická klasifikácia (P. Špalek)
Možnosti využití hematologické léčby u MG (T. Kozák)
Možnosti hematologické léčby u refrakterní myastenie (J. Piťha)
Prognostické faktory myastenie. Kdy selhává terapie? (S. Vohaňka)
Racionální terapie kortikosteroidy u myasthenia gravis. Rizika benefit léčby (I. Nováková)
XVII. Vejvajkův myastenický den, leden 2009
Projekt Euromyasthenia (J. Piťha) zde
Diagnostika, liečba a prognóza okularnej myasténie (P. Špalek)
Nevýhody jednostranné VTS thymektomie (J. Tvrdoň, J. Shutzner, J. Piťha)
Zánět - komplikace myastenické krize (O. Hon, O. Zapletalová, M. Škutová, R. Hofer)
Kongenitální myastenické syndromy (M. Mosejová, I. Příhodová, P. Seeman, S. Nevšímalová, M. Havlová, J. Piťha)
---
Lectures in English (Powerpoint)
Ocular Myasthenia Gravis (Powerpoint)
Myasthenia Gravis a Neurologist´s Perspektive (pdf)
Myasthenia Gravis, Diagnosis and Management (pdf)
Mediastinal Tumors (pdf)
Myasthenia Gravis (pdf)
Neuromuscular Blocking Drugs (pdf)
The role plasmapheresis in Myasthenia Gravis (pdf)
Other Professional Resources: Dysfuction of neuromuscular junction